Outdoor Singing Crystal Bowl Concert & Potluck
August 31, 2019 @ 5:00 pm

-

9:00 pm

$30.00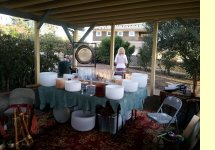 Join us for a beautiful salute to summer's end with the magical energies of the Singing Crystal Bowls brought to you by the Crystal Vibrations Ensemble.
The event will begin with a community potluck, then as the sun sets, a Crystal Vibrations Sunset Concert under the stars.
Guenther Kramer, shamanic practitioner and musician extraordinaire, will be hosting us at his home and magical sacred space.
For the sunset concert of singing crystal bowls, attendees can sit under the patio, or out on the grass under the stars (your choice!) Plenty of seating and yet bring your blankets and pillows if you would like to lie down or your favorite lawn chair to see the stars rise as the crystalline sounds of Elivia's 45 singing crystal bowl soar to the heavens.
For the singing crystal bowl sunset concert it will be the Crystal Vibrations Ensemble!
Joinin
g Elivia will be Didjeridu player, Guenther Krammer, Flutist Karen Soriano,  and special guests!
The Inspired music from Elivia's 45 Crystal Singing Bowls, harmonic percussion and Celtic harp will take you on a magical journey through sacred sound and vibration, deepening your higher awareness and opening you to wholeness on all levels. Aligning all your energy centers and more, you are invited to journey to realms of deep inner peace, stress relief and pure joy with this exquisitely soothing new world music.
Be sure to bring your blankets and pillows or your favorite lounge chairs for the Sunset Crystal Vibrations Concert!
Potluck starts when you get there at 5 PM
This will be held at a private home in Vista so car-pooling will be helpful. Please plan on arriving on time or early, to give yourself plenty of time to get settled in.
Donation: $30.
Location: 1290 Barbara Drive, Vista, CA 92084.
Questions? call Guenther 760-518-6970